SEM and SEO positioning are two basic pillars in a company's digital marketing strategy. Although these two elements have many factors in common and some people may think it's the same thing, they have a lot of differences.
Today in Best SEO Columbia SC we will explain one by one of the main differences between SEM and SEO and how these practices can drastically change your business.
The concept of SEM (Search Engine Marketing) refers to the promotion of a website in search engines through the use of paid ads through platforms such as Google Ads or Bing Ads. Using paid ads, companies ensure that their content will appear at the top of searches with an ad badge.
On the other hand SEO (Search Engine Optimization) refers to a natural and organic positioning of the content in web search engines. Since the leading search engine is Google, we generally focus on its algorithm to improve the positioning of our web content.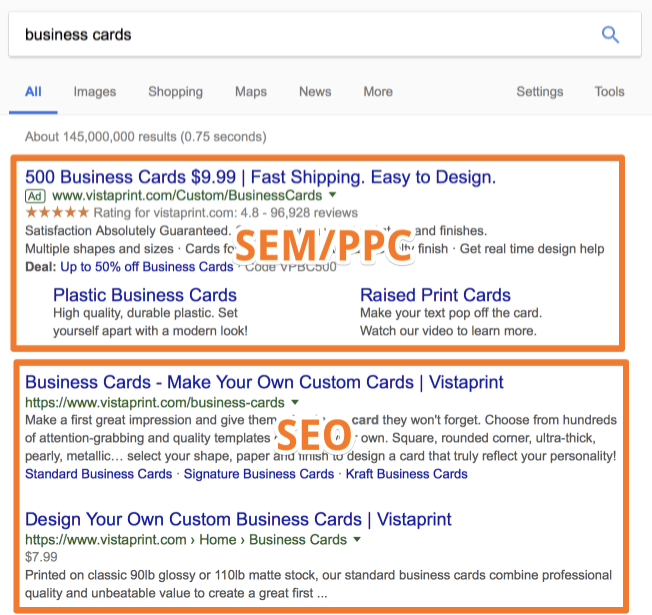 It looks like the only differences between SEO and SEM is that one is paid search strategy, and the other consists in an organic search strategy. Although this is one of the most differential factors, there's still a lot to mention when we talk about this topic.
Time frame
Another main difference is the period of time each one needs to be applied. SEM is an immediate strategy, we can create campaigns and start appearing in the search engines today, and you can maintain your position in the top as long as you keep investing.
On the other side, SEO results can appear medium-long term period of time. But if you make it to the top, it's easier to maintain if you have a good strategy.
Creative Content
Normally, the contents we write for SEM have to have a very specific objective, marry the structure of the campaigns, the keywords and have a much more "commercial" focus and focus on sales to attract potential customers. A landing page for SEM must be focused on the sale, without too many distractions so as not to lose the user and perform the action that interests us, such as: filling out a form, calling, requesting a quote, registering on the web, etc.
In the case of SEO, the contents must have a high relevance. This does not imply that they should not be focused on sales, but it is convenient to have more extensive, quality content that really brings something new and interesting to our reader / client.
Effectiveness of SEM and SEO
SEO gets more clicks than SEM, although PPC (Pay Per Click) ads appear above organic rankings.
Google Analytics showed that 71.33% of searches result in a click on an organic result on the first page instead of the ads.
It's not easy to find an specific reason for this, but the most logical conclusion is that users trust Google's algorithm. They know which spots advertisers are paying for, and they choose to instead visit the pages the search engine has determined to be the best.
Another reason for this to happen is the longevity of the strategy. Although SEM can put your website immediately on the top of searches, it will immediately disappear in the moment you stop paying for it.
Organic SEO takes more time, but it is generally the best marketing tactic for long-lasting results. Websites that rank high in the organic results for their target keywords, can get free traffic 24/7, industry recognition and enjoy all the benefits of SEO.
Let us help you build the perfect strategy customized for your business!
Here in Best SEO Columbia SC, We can help you find the best SEO at the lowest price in the Columbia South Carolina market. We know this because we carefully check Google reviews and other online information to ensure that you get the lowest price SEO, internet marketing and advertising from the best companies in the Columbia area!
Get a free, no obligation, quote on your Search Engine Optimization (SEO) from Columbia, South Carolina's Top SEO and Internet Marketing Companies! If nothing else, you will have a number that will help with budgeting and 3 potential top-ranked company contacts when you do move forward!
So, get started! Good Luck!